Working with Video and Media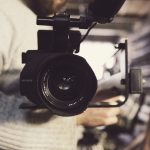 If you're looking to enrich your instructional content with lecture videos, quality audio recordings, or add a multi-media assignment to your class, we can help!
We can help guide you in creating an activity for your class, and and provide on-site training for your students.  In addition we have specialized equipment, spaces, and other resources to help.
---
Video Editing
HumTech offers a free video editing service for Humanities instructors. Click here for more information.
Want to edit yourself? Here are some instructions on how to edit your videos at home on a Mac using iMovie, or on a Windows computer with Microsoft's Video Editor.
---
Equipment
Audio and video recording equipment is available at no cost for instructors to borrow. Check out our Gear to Go page for more information.
---
Lecture videos
Learn how to create and integrate lecture videos into a CCLE course site, including how to add subtitles, or how to measure student engagement with them.
---
Space
We have two dedicated production spaces, Studio H and the EliXR, available for both instructors and students.
---
Training
We can provide individual training for you, for a small group, or even come to your class to show your students how to create, edit, and produce videos, podcasts, or other media.
Contact us at ritc@humnet.ucla.edu for more information.