Studio H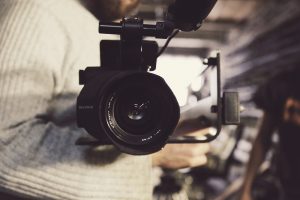 Located in 1043 Public Affairs, Studio H is a space for Humanities faculty and students to record audio and video. 
This small production environment is equipped with both video (4k camera, green screen capability) and audio recording equipment, and is perfect for trying out new ideas, or creating light instructional content, such a pre-recorded lecture videos.
You may use Studio H either on your own, or with our help. Studio H is adjacent to our instructional technology team in the Learning Commons for ready access to advice and help as you learn to use the recording equipment.
---
Related Spaces and Services
HumTech operates another studio, the EliXR, which offers a similar production environment to Studio H, in addition to VR technologies.
We also have equipment available for instructors to borrow. See our Gear to Go page for more information.
If you need help editing your instructional content, we're here for you! Check out our video editing service and let us know how we can help.
Reserving Studio H
All UCLA students, faculty, and staff are able to reserve Studio H for academic purposes.
Studio H is available to reserve on weekdays between 9:00 am and 4:00 pm. For reservations, please refer to the schedule below and fill out the form. You can also e-mail our reservation coordinator. Reservation requests made less than a week in advance may not be able to be accommodated.
Scheduling priority will be given to Humanities related instruction that best utilizes available resources. Scheduling conflicts after considering resource utilization, will be prioritized in the order received.
Studio H Reservation Request