Studio H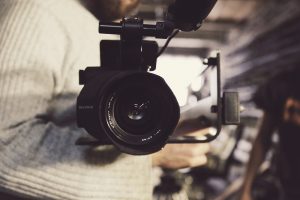 Located in 1043 Public Affairs, Studio H is a space for Humanities faculty and students to record audio and video. 
This small production environment is equipped with both video (4k camera, green screen capability) and audio recording equipment, and is perfect for trying out new ideas, or creating light instructional content, such a pre-recorded lecture videos.
You may use Studio H either on your own, or with our help. Studio H is adjacent to our instructional technology team in the Learning Commons for ready access to advice and help as you learn to use the recording equipment.
Reserving Studio H
Studio H is available to reserve on weekdays between 9:00 a.m. and 5:00 p.m. For reservations, please refer to the schedule below and fill out the form. You can also e-mail our reservation coordinator.
Scheduling priority will be given to Humanities related instruction.