EliXR Lab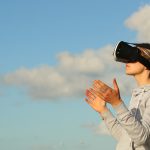 UPDATE: The building that the EliXR Lab is located in, the Public Affairs Building, is undergoing earthquake retrofit beginning in December, 2021. As a result, this space will not be available until July 2022 at the earliest.
Interested in exploring eXtended Reality (XR)? The EliXR Lab is HumTech's newest studio space. Adjacent to our instructional technology staff in 1045 Public Affairs, eliXR is a private place for students, staff, and faculty to experiment with and create XR content.
EliXR is equipped with a mobile PC/display cart offering a variety of software titles for content creation: Unity, Unreal Engine, Blender, and SketchUp. Also available is an Oculus Rift S and PlayStation 4 Pro with PS VR. Or, try out some of our XR games and experiences, or arrange to bring your own titles, either on disk (for PlayStation) or though Steam (for VR titles).
Below is a list of titles HumTech already owns:
Beat Saber (Oculus)
Google Blocks (Oculus)
Google Earth VR (Oculus)
Google TiltBrush (Oculus)
Kingspray Graffiti (Oculus)
Superhot VR (Oculus)
Fallout 4 (PS4)
Moss VR (PSVR)
Red Dead Redemption 2 (PS4)
Skyrim VR (PSVR)
The Last of US (PS4)
---
Video Production
Similar to Studio H, the EliXR is equipped with high-end video production equipment – a 4K camera, lighting, green screen, and studio microphones. The space is perfect for trying out new ideas, or creating instructional content such a pre-recorded lecture videos.
We also have equipment available for instructors to borrow. See our Gear to Go page for more information.
If you need help editing your instructional content, we're here for you! Check out our video editing service and let us know how we can help.
Reserving the EliXR
All UCLA students, faculty, and staff are able to reserve the XR Lab for academic purposes. Scheduling priority is given to Humanities-related instruction.
For reservations, please refer to the schedule below and fill out the form. You may also email our Lab Coordinator.
EliXR Reservation Request