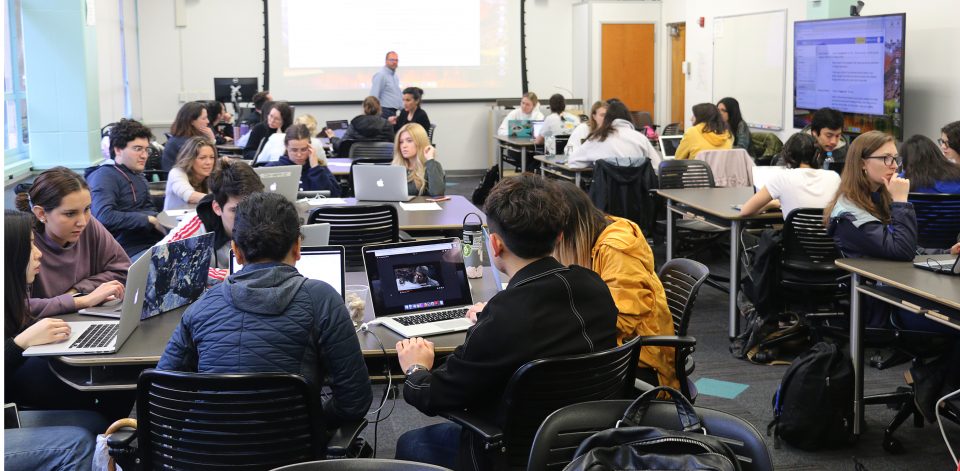 By Andrew Jessup on April 9, 2019
You might be interested to know that there are a  number of learning and collaboration spaces available to both instructors and students in the Humanities. From our large learning lab to our small recording studio, we may have the right space for your instructional needs. Beginning this year, these spaces are also available for summer sessions.
Learning Lab @ Rolfe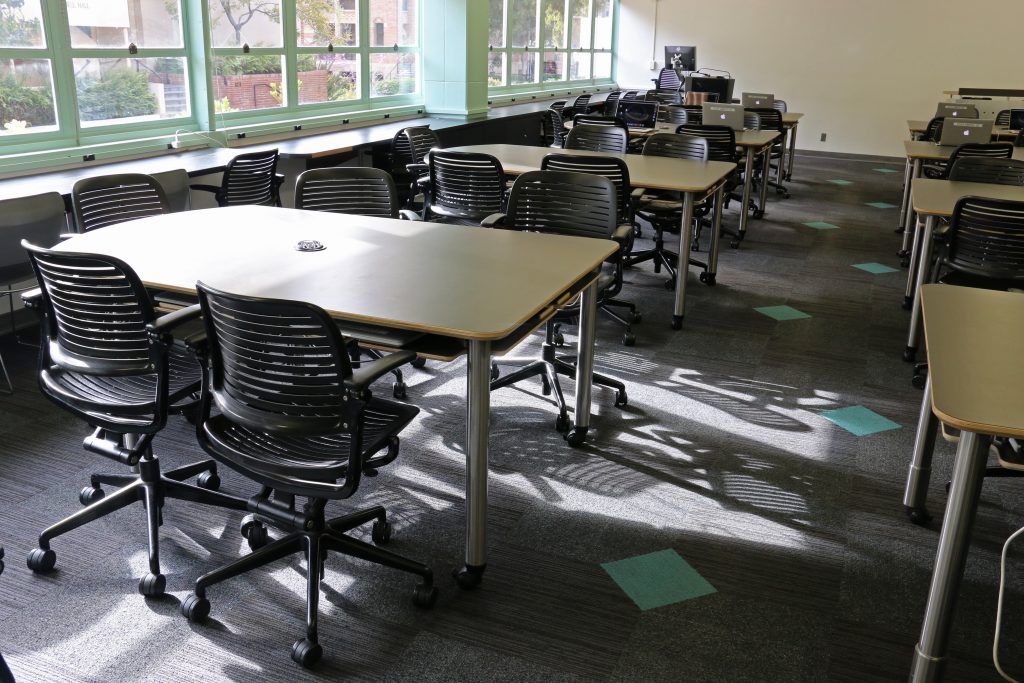 The Learning Lab is unlike any other classroom on campus. With its mobile tables, chairs, whiteboards, and lectern, instructors are free to completely rearrange the room to best suit their teaching needs. This freedom of mobility has proven to be effective for classes, especially when it comes to group work.  This space has a room capacity of 50.
In addition to a high-res projector at the front, the Learning Lab is also equipped with two 75″ 4K monitors that can go anywhere in the room. They can even mirror what's being shown on the projector so every student is able to see no matter where they are sitting. Combine that with our excellent audio system, teleconferencing capabilities, and a MacBook Pro at every seat, and you have a limitless learning space. Sometimes all this technology and capability can be difficult to leverage, which is why there is always a staff member ready to provide on-demand technical assistance. If you're a Humanities instructor interested in teaching a course in the Learning Lab, please fill out our request form .
When not in use by a class the Learning Lab is open for people to study, take online exams, and use the available technology. Take a look at our open hours on the Learning Lab webpage and feel free to stop by!
Experimental Learning Facility (ELF)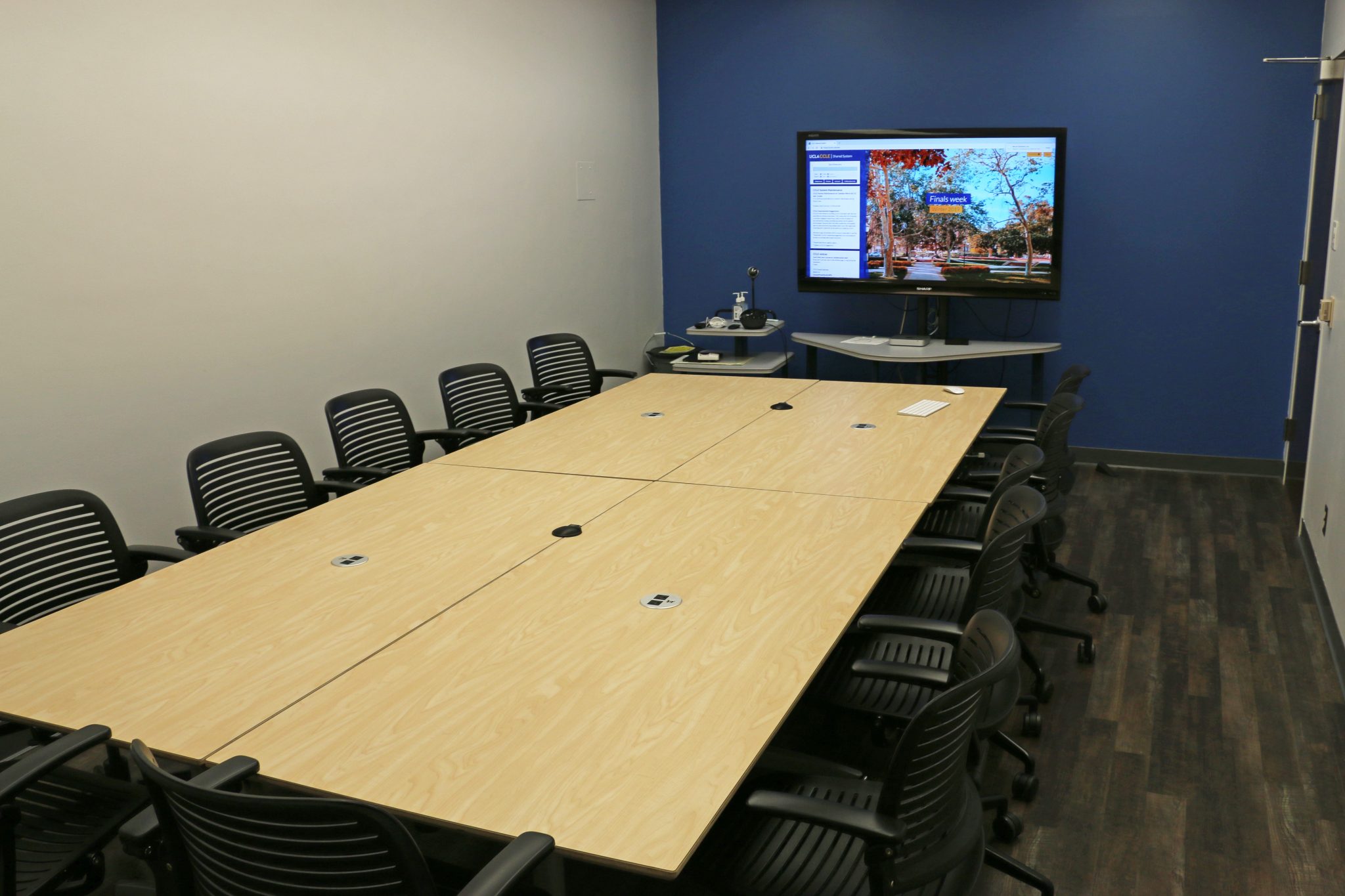 The ELF is a seminar-style room ideal for about 12 people – but don't be fooled, this room can accommodate larger classes thanks to its teleconferencing capabilities. Equipped with a Mac Mini, large display, and teleconferencing equipment, the ELF is ready to host students anywhere in the world. The space has been used to great effect by instructors teaching less-commonly taught languages with students joining from all over the state. To view the schedule and request access to the ELF, please fill out our space request form.
Online Resource Classroom (ORC)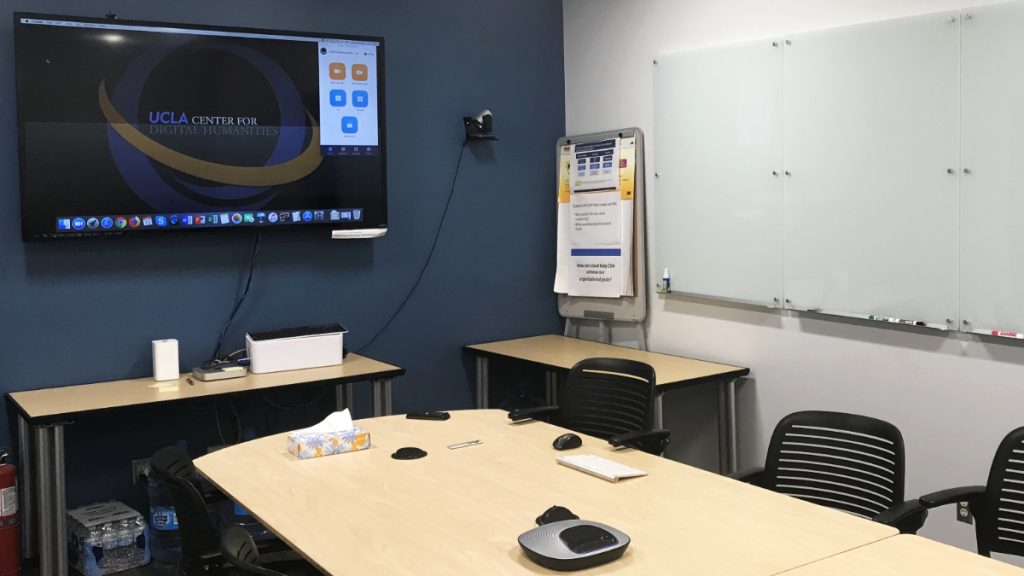 Much like a larger version of the ELF, the ORC is a seminar-style room with seating for up to 20 people. The technology and capabilities are very similar too – a Mac Mini, large display and teleconferencing equipment. The ORC is a space we are willing to test out new technology as well. For example, the room is equipped with a digital collaboration tool that allows users to share content from their devices to the large display simultaneously. To view the schedule and request access to the ORC, please fill out our space request form.
Studio H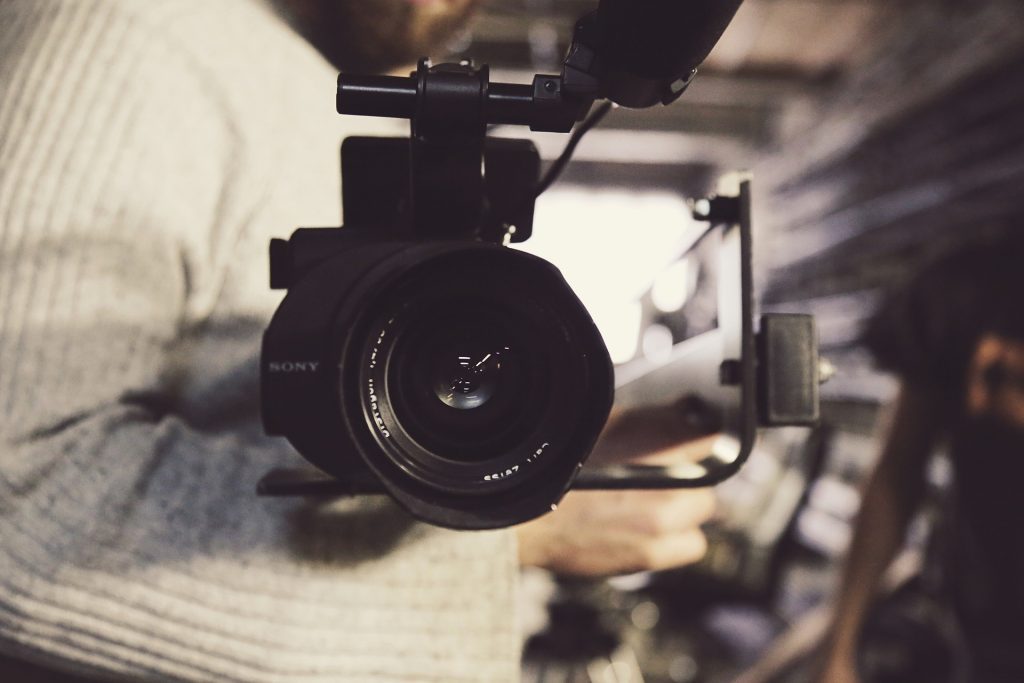 Studio H is a small production environment available to Humanities students and faculty. Equipped with a 4K camera, green screen, audio equipment, and laptop, it is a great place to create instructional content like presentations and podcasts or just to test out new ideas. Please visit the Studio H webpage for more information on availability and reservations.