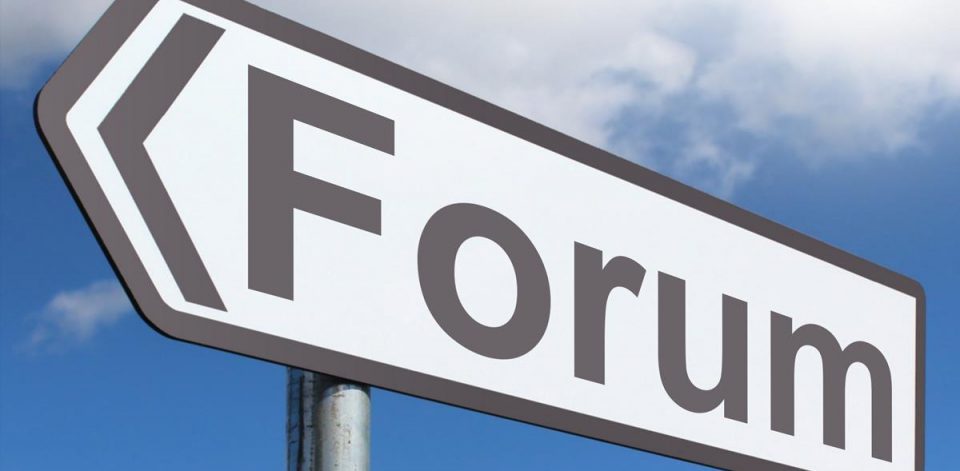 By Thomas Garbelotti on March 17, 2021
By now, many UCLA instructors have discovered the native Forum tool in CCLE to engage with students and create a space for discussion.  But did you know that you can also use a single forum for group work, or even for a peer review activity? 
While not anonymous (in the case of peer review), this allows students to easily share, comment, and leave feedback with their group members, and not the entire class. Naturally, as the instructor you have permission to see all posts and replies.
The process for students is fairly straightforward: Within their group, students upload a copy of their work, and their colleagues download, annotate or critique, and then upload the marked-up copy or their comments as a reply. This makes review and student participation in the activity fairly easy for the instructor to track and follow.
To set this up, you need to…
create groups in the course;

assign students to a group;

place the groups into a grouping;

create a forum, set it to "separate" groups, and choose the grouping;

post a topic, either to each group separately, or to all groups at once. 
Since this leverages additional functionality (groups/groupings) and forum settings with which you may not be familiar, what follows are more detailed steps to help you set up forums for group peer review.
Create groups in the course
The first step is creating groups in the course. Depending on your use case, group names could be as simple as "Group A", "Group B", or something more specific and topical to each group, such as "Shakespeare in Cinema".  You can create groups manually, have CCLE generate them for you, or even upload a CSV file to have them created all at once. 
Assign students to the groups
Just like group creation, membership in each may be automatically or manually assigned.  There is even an option for students to choose their own group (a great option when groups are arranged by subject) using the additional Group Choice tool.
Place the groups into a grouping
Once the groups are created, you must place them in a specially created grouping for the purpose of the exercise ("Peer Review 1", etc.).  This may seem odd, at first, but it is necessary for the forum to function properly. Figure 1 shows four different activities that utilized separate groupings, and different groups for each, so students would have a new group to work with each time.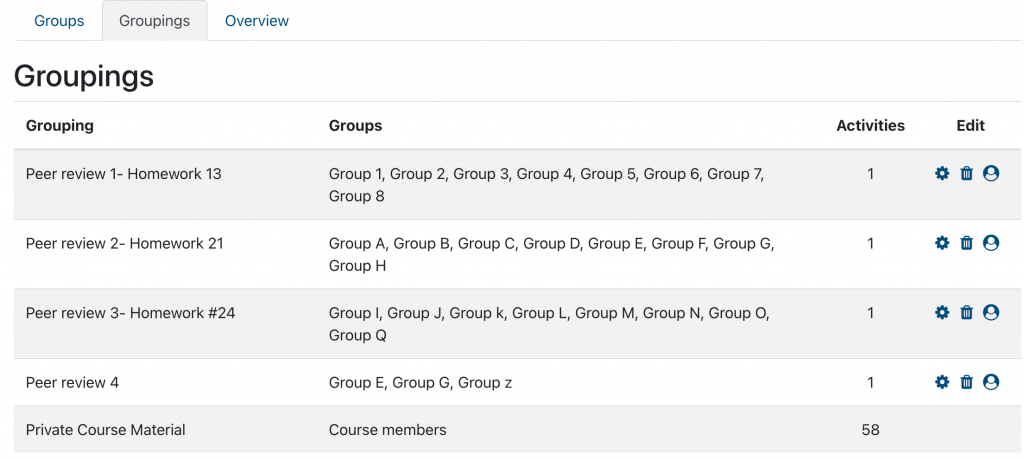 Create a forum
Create a new forum for the desired purpose and, under the settings tab, select Common module settings. Here, set Group mode to Separate groups, and choose the grouping you created above.
Post a topic
As the instructor, you can now go to the forum, and post a topic. This could be a writing prompt, or simply a description of what you'd like them to do. As you create the topic, you have the option of either posting to just one group (by selecting them via the pull down menu, as shown in Figure 3), or you can send the same topic to all groups by choosing the Post a copy to all groups option.

For full, step by step instructions, see CCLE Peer Review with Forums.  Additional documentation about these CCLE resources is also available as follows:
---
Main image: communication.jpg by author Nick Youngson. Image is used under the Creative Commons 3 License – CC BY-SA 3.0 (https://www.picpedia.org/highway-signs/f/forum.html)
Screenshots provided by the author.