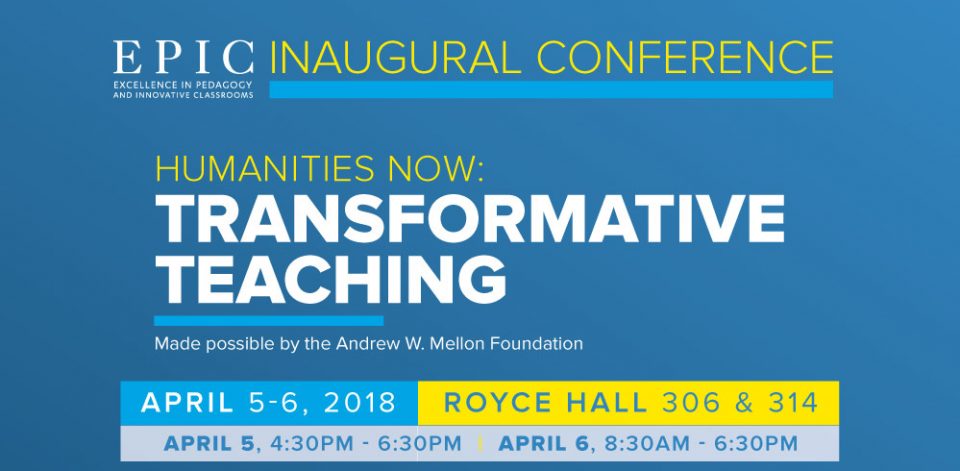 By Kevin G. McDonald on June 18, 2018
The EPIC Program at UCLA recognizes the possibilities of transformative teaching in the classroom when effort is put forth to embrace diversity: both the diversity of the students and the diversity of pedagogical approaches and technologies available to receptive educators.
This philosophy was at the forefront of the Inaugural EPIC (Excellence in Pedagogy and Innovative Classrooms) Conference at the beginning of April at UCLA. "Humanities Now: Transformative Teaching" was the title of the event that attracted presenters from all over the country. Dr. Lisa Felipe and the EPIC team provided a wonderfully organized and welcoming event over two days where presenters and attendees embraced the opportunity to network and discuss how a prevalent theme of the conference, collaboration, could be realized beyond the confines of institutions, disciplines, or roles.
The panel topics–Inclusive Classrooms; Innovative Teaching with Technology; Community Engaged Teaching; and Pedagogical Training and the Market–featured presentations that certainly demonstrated excellence in pedagogy and that, much to this attendee's pleasure, ignited urgent discussions that veered into philosophical and ethical conversations about privacy and the gamefication of critical thinking.
While certainly not new territory in discussions surrounding the Digital Humanities and Remote Learning, the concern regarding privacy was contextualized in a way that really illustrated how vulnerable certain students could potentially be in online learning environments as more and more courses leave the traditional classroom setting and settle into virtual spaces. A panel of graduate student respondents that closed out the final day by proposing points of further discussion inspired by each panel reacted to a perceived non-critical elegizing of remote learning in multiple presentations.
During this discussion, a scenario was presented by someone in the audience who acknowledged that many of the courses we teach in the Humanities rely upon delicate conversations about often provocative and polarizing topics. The attendee noted that the online discussion environment leaves a digital trace of those discussions, discussions that for particular students (such as foreign students from more authoritarian states) may face dire consequences if the contents of these online discussions were discovered. Of course there are no immediate answers or solutions to the complex issue of privacy in these online learning environments, but it was reassuring to witness such a talented and passionate group of educators debating this topic in a nuanced manner.
Multiple presentations covered pedagogical approaches that deployed strategies of gamefication, but the example of this that generated the most conversation was UC Riverside History Professor Juliette Levy's Digital Zombies project. The Digital Zombies project uses the Max Brooks novel World War Z as a point of departure for gamefying the training of research methods, digital literacy, and critical thinking.
Students are tasked with completing a series of "missions" that lead them through both analog and digital worlds as they strive to escape the dystopian fate of the digital zombie disease and achieve full status as a "Digital Citizen." Professor Levy's project elicited some interesting comments during the Q & A from some audience members who raised a concern that such a method transfers skills of deliberation and debate into gaming skills which could have implications that extend as far as our Democracy. Other concerns raised about such gamefied pedagogical methods veered into a critique of late capitalism as one person observed that the ethos of competition in gaming environments brings out the worst capitalist tendencies in people.
The debate that ensued about the gamefication of critical thinking was perhaps best resolved by the panel who pointed to the cultural relevance of this approach and how it has resulted in engaged students and, perhaps even more tangible, they highlighted that Higher Education is itself already a gamefied system. The urgency of digital literacy and the proper cultivation of critical thinkers has never been more vital and, albeit complex and not easily resolved, this conversation proved to be both cathartic and productive for those educators present who are concerned with transformative teaching and innovating the classroom.
The inaugural EPIC Conference provided more moments worthy of mention and further discussion than can be detailed in one short blog post. Some other participants whose work animated the audience were Professor Mary Flanagan of Dartmouth College and Professor Catherine Knight Steele from the University of Maryland. Professor Flanagan, joining the conference remotely from her office at Dartmouth, emphasized the process of learning through making as she shared how she uses the design process to engage students. Professor Catherine Knight Steele shared her approach to designing and implementing the African American Digital Humanities (AADHum) program at the University of Maryland. As Project Director, Dr. Knight Steele candidly shared how envisioning what failure would like for the African American Digital Humanities program was key to plotting out what objectives were essential to the sustainability and success of this unprecedented venture.
What was most invigorating about this presentation was Dr. Knight Steele's assertion that in unapologetically centering African American Studies, the AADHum project is creating a model for others who have been subjected to systematic oppressions and erasures to do the same. Incidentally, AADHum will have their inaugural conference, "Intentionally Digital, Intentionally Black," in October.
Many congratulations to Dr. Lisa Felipe, the UCLA EPIC team, and all of the participants for a successful, vital, and productive inaugural conference.
---
Resources: