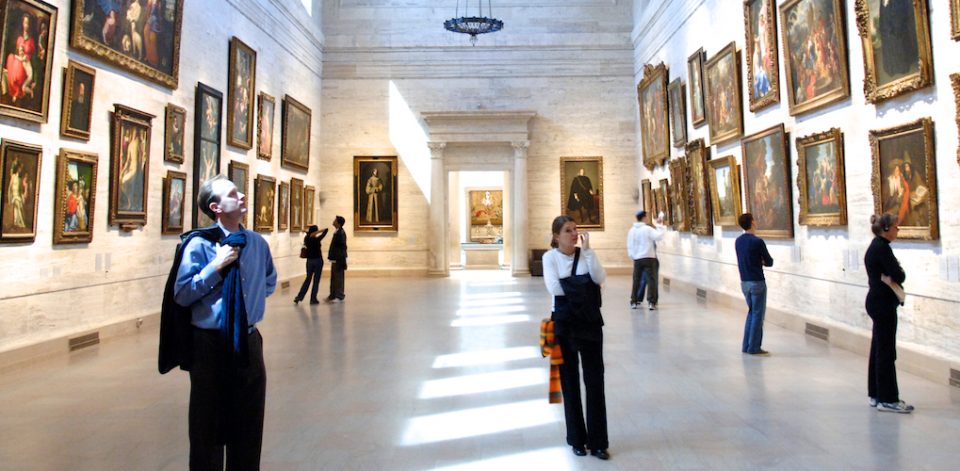 By CDH Guest Author on January 11, 2016
A few months ago I wrote an article on haptic computing and tactile interfacing, and it got me thinking of the ways people interact with objects.  As an archaeologist, I'm confronted with the complications of preserving sometimes fragile, often irreplaceable, historical objects.  
"It belongs in a museum!" is the rallying cry of one Dr. Jones, whip aficionado and known demolisher of heritage sites.
But there's a problem with this as well: museums are, to a certain respect, inherently constraining.  Placing historical objects behind glass casing and roping off works of art creates boundaries between the viewer and the piece.
The digital age has introduced ways in which museums can introduce a more immersive, participatory experience for patrons.  For example, the Cultural Heritage Experiences Through Socio-personal Interactions and Storytelling (CHESS) program is changing museum interactive storytelling.  Story authors use the CHESS authoring tool (CAT) to produce narratives around museum exhibits, and a plot is sketched out incorporating pathing through the museum.  This is then integrated with digital multimedia to create an interactive visitor experience.  
The beta of CHESS is in trials at the Cite de l'Espace Museum in Toulouse, France and at the Acropolis Museum in Athens, Greece.  Guided through the exhibition narrative via tablet, visitors might scan a marble sculpture and see the painted original overlaid on the current piece.
Another innovator in the field of immersive museum participation is the Cooper Hewitt, Smithsonian Design Museum.  Upon arrival visitors are given a touch-sensitive stylus.  In one of the immersion rooms, visitors interested in historic wallpapers can tap one of the museums selections with the stylus and then project that sample throughout the entire room.  Visitors can also draw out their own designs; common images (flowers, geometric designs, etc.) are recognized by the software, and related historical motifs are then suggested.
3D scanning and object replication have also provided interesting new avenues for object interaction.  The Smithsonian has scanned and 3D printed two life-masks of Abraham Lincoln from the National Portrait Gallery in Washington, one from early in his term and the other from two-months before he was assassinated.  Seeing, even touching the changes in his face, provides visceral insight into the effects that the Civil War physically had on him.
Digitizing collections is an ongoing endeavor of many museums as well.  The Natural History Museum in London is in the process of digitizing one of the largest natural history collections in the world, comprising over 80 million specimens in total.  In addition to digitizing approximately a quarter of their own collection, the NHM's ultimate goal is to include data from more than a billion specimens from museums world-wide.  
The data that has been digitized so far is currently available to the public via their Data Portal.  Visualization tools can be utilized with these digitized specimens, providing new avenues for analysis and cooperative research between institutions.
There is much to be said for the physical museum, and for patrons viewing pieces in person.  But this shouldn't prevent us from incorporating innovative digital approaches to a more traditional schema. As artists continue experimenting in digital creation, and as archaeologists continue to gather and analyze digital data, museums must grapple with ways in which to display this to the public.  As the field advances, museums have a unique position in becoming the face of digital culture.
Featured image: Museum of Fine Arts Boston.jpg by Museum of Fine Arts Boston.  Modified and used under the creative commons license. (https://www.flickr.com/photos/gocardusa/3789229531/)
---
Kandace Pansire is a Research and Instructional Technology Consultant (RITC) at the UCLA Center for Digital Humanities, and is a C. Phil. in the UCLA Department of Near Eastern Languages and Cultures. Her research focus is on symbolic belief systems and the mind-body-magic relationship between objects and persons in ancient Egypt.
---
Resources: