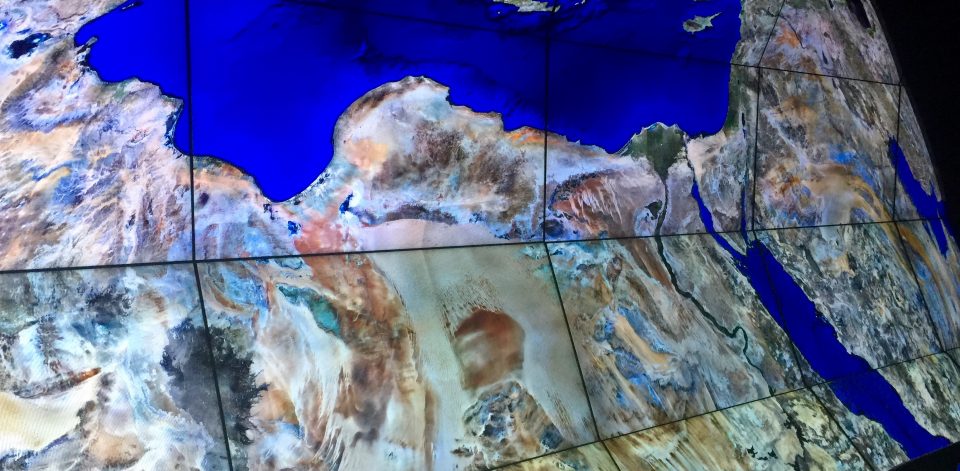 By CDH Guest Author on May 23, 2016
UCLA is a partner in a UC President's Catalyst Award, one of only four of such grants awarded in 2016. As one of the four PIs (together with Tom Levy from UC San Diego, Ben Porter from UC Berkeley and Nicola Lercari from UC Merced) I am involved in developing and testing digital means of monitoring, recording, publishing and preserving cultural heritage world-wide. Part of the grant enables the purchase of a presentation kiosk for the Fowler Museum to present 3D projected photographs or models of reconstructed buildings and objects. In early May several HumTech and Fowler staff members went on a field trip to UC San Diego's CalIT2's Immersive Visualization Laboratory to study the technological requirements for the kiosk and brainstorm about its function in instruction, research and informing the general public.
Here are some reflections from among the group, providing multiple perspectives on the visit and on what we expected and saw.
Dave Shepard is the Lead Academic Developer at the UCLA Center for Digital Humanities. He received his PhD in English Literature from UCLA in 2012 and started work at HumTech a year later. When he's not working, he spends his time learning about history and writing code, which is, oddly enough, what he does at work.
What we want to build is tools for scholarship rather than experience: can you interact with an environment while being inside it?
Content is probably the most important part. We want to be able to develop experiences that really make use of the technology. The screens look neat but what really makes it compelling is the content.
What really makes an environment immersive is movement: once we see the graphics, we want to be able to move around in the environment and touch the virtual objects we see. Not that we necessarily want a tactile experience (though that would be compelling), but that we want them to respond.
We have to walk the line between using advanced technology to create an interesting experience and making the experience accessible to people. How many people can fit into a VR cave at once?
Many of the tools developed require the viewer to be still. Instead of looking for experiences that simulate moving through a space, perhaps we should be looking to create experiences that feel normal if the user has to stay in a fixed position.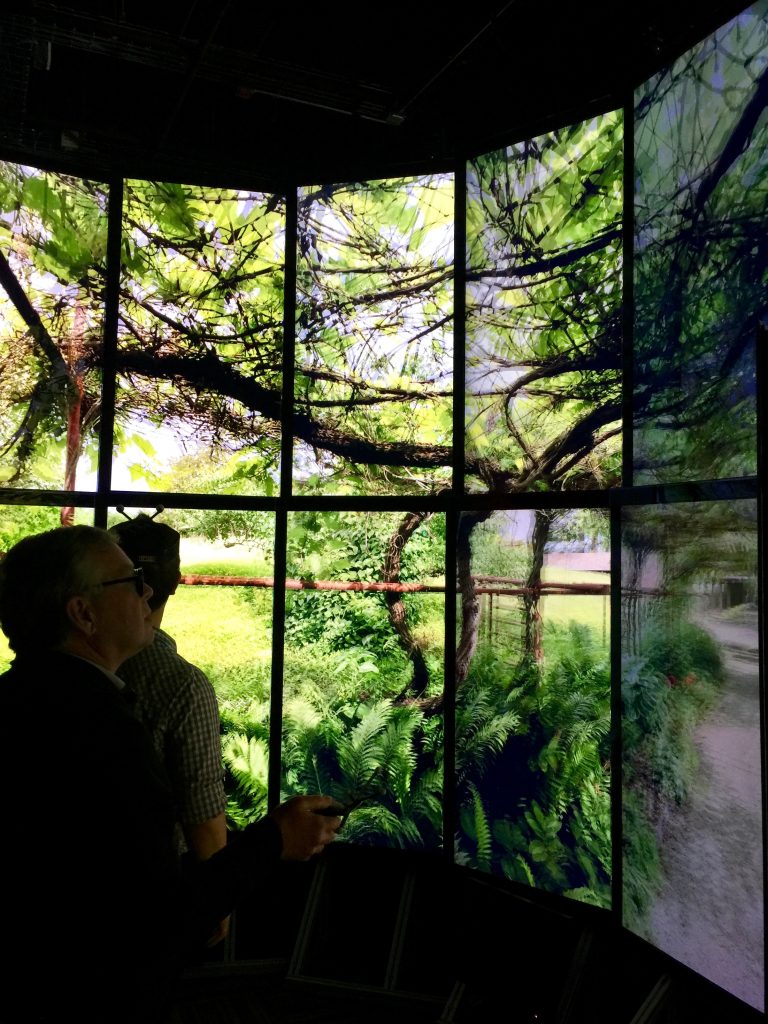 Deidre Whitmore is a Graduate Student Researcher studying data reuse in archaeology. She is currently working on DIG, a data publishing platform, and Metadata Central, an initiative to bring students together across the UC campuses in order to engage with metadata theory and practices.
The most striking take away from the trip was the continued exploration into storytelling. Each system introduced new ways to convey data while weaving a highly visual narrative around the data.
There was an intriguing juxtaposition between size and mobility. The team showed how massive amounts of archaeological data could be collected, joined with imagery and geo-spatial information to create an experience that can also be packed up and relocated as needed.
The preservation and dissemination system at the UCSD Library highlights how new modes of presentation can be explored when the data are well cared for and accessible.
Anthony Caldwell manages the UCLA Center for Digital Humanities Instructional Labs and the Scholarly Innovation Lab (SIL) where he is also a resident technologist specializing in 3D modeling.
One of the aspects I liked best about the project was the use of off the shelf components, and open source software. This type of maker approach is very sustainable and expandable once you work out all of the technical details. The only trick is to make sure you have someone with the expertise to design and maintain the system.
From my perspective there is very little downside to the project. Two thoughts however – The demo on the display array called the WAVE had quite a bit of latency in the individual panels. Although I have learned to see past technology limitations to the potential of what is being proposed, I believe it would be very distracting to the general public. The second thought relates to what content should be presented with this type of system. I found the Exodus presentation interesting but nothing you could not do with other simpler modes of display. Where I think this approach really shines is in the wall display that responded to the viewers movement. The 3D images of the temple at Luxor were very compelling.
Someone asked why not just use a VR headset? This is a good question and the answer is, "Yes, you could!" With a headset, however, interacting with others is virtual and can be very difficult to accomplish depending on the type of interaction. These display arrays hold the possibility of allowing multiple users to interact with one another in a more natural and intuitive way within a virtual environment.
Harold Shin is the Humanities Chief Technology Officer where he oversees the Network and Servers Group. He is responsible for all things network and infrastructure related. He has been at UCLA for over twenty years so he has seen the campus IT landscape change (for the better) over the years. Outside of UCLA, he enjoys spending time with his family, traveling, watching his daughters play lacrosse, and volunteering.
 The 3D StarCave, the WAVE, and the Vroom Big Wall were all impressive. I imagine they are not easy to maintain, especially the hardware. They shared that they've had to purchase extra flat screens as a spare because the manufacturers come out with new models so often.
I was disappointed to hear that these spaces are not used for instruction but more for 'show'. I would like to see some if not all of these incorporated into instruction, and not just for research.
My takeaway from this field trip was that we, at HumTech, can setup something similar, in a much smaller scale which I think is more sustainable. We can setup a workstation with one or two 30″ monitors as a start. We recently talked about integrating Microsoft Kinect hardware to enhance the immersive experience. I have an email to our Microsoft rep asking for potential partnership or sponsorship. The bigger challenge is building the relevant content and keeping it up to date.
Daniel Park is the Senior Systems Engineer at the UCLA Center for Digital Humanities. He was a UCLA undergrad  and enjoyed his experience so much he decided to work at UCLA for 7 years before moving on to the private sector. He returned to UCLA in 2015 after 12 years at a telecom and software company. He is ecstatic to be at UCLA as "it feels very much like coming home to see friends and family."
3D visualization in the StarCAVE was immersive. The CAVE demonstrated that the coming years of development and user adoption will be very exciting. However, for me, all things 3D (just for 3D's sake) quickly becomes passé. This maybe a pitfall to avoid as this technology evolves. To make immersion impactful as a long term technology, it needs to be a functional tool that can be used easily every day. Not 3D play back, like a movie, but true immersion that brings about learning via interaction within the environment with direct access to the data.
The Vroom Big Wall was impressive. It really surprised me how much more it immersed my mind into the presentation and allowed me to see the Center's bigger picture. For myself, not knowing the center's background, the wall to wall screen really helped visually connect all the different presentations with the Center's focus to support field work, instruction, and research. The super dark environment (only lit by the giant screen) focused all our attention on the speaker and images. It was like presentations on IMAX steroids literally showing the big picture. Very effective.
The exploration of the multiple possible routes of the Exodus story in connection with a tsunami event on the WAVE installation hit home by allowing us to fly over and see the topological challenges for each route. Connecting these two events geographically and topographically is not easy to conceptualize. The WAVE was the perfect method for conveying it. One downside: the visual fly-through experience often overwhelmed the audio content. At times I found myself lost in information overload.
---
Willeke Wendrich is the director of the Center for Digital Humanities. She has a PhD in Egyptian Archaeology from Leiden University, the Netherlands (1999) , and is the Joan Silsbee Chair in African Cultural Archaeology and professor in the Department of Near Eastern Languages and Cultures. She is co-directing an excavation and survey project in Egypt that concentrates on the landscape around Lake Qarun in the Fayum Oasis, and specifically the development of agriculture. A similar research question is the basis for a recently started project in Ethiopia. She is the Editor-in-Chief of the online UCLA Encyclopedia of Egyptology, a worldwide collaboration of Egyptologists, archaeologists, linguists, art historians, geologists and all other disciplines that are involved in research in Egypt. She is the Editorial Director of the Cotsen Institute of Archaeology Press and Chair of the Board of the Institute for Field Research. Her latest books are Egyptian Archaeology (Wiley-Blackwell, 2010) and Archaeology and Apprenticeship, Body Knowledge, Identity, and Communities of Practice  (University of Arizona Press, 2012).
---
Resources