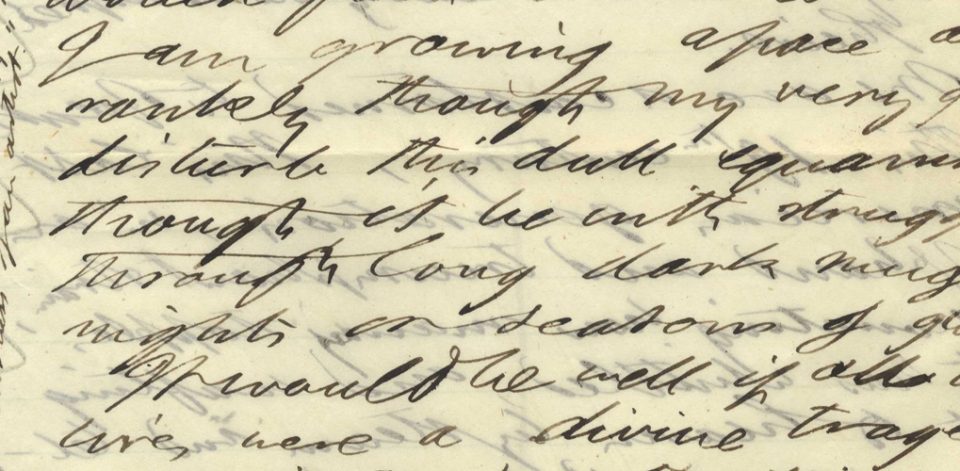 By Mark Gallagher on January 21, 2016
"The Readers' Thoreau" (http://commons.digitalthoreau.org) offers educators and their students a new way to study the works of the nineteenth-century American writer, Henry David Thoreau, in the form of a collaborative social edition.
One of several projects launched by Digital Thoreau—itself a collaboration of SUNY Geneseo, the Thoreau Society, and the Walden Woods Project—"The Readers' Thoreau" is a social edition that allows for interactive annotations from its readers. Users can respond with their own interpretations of a passage, supply commentary from existing scholarship, or link to other digital resources such as other texts or images.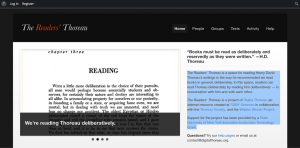 "Reading, like writing, is an inherently social activity," says Paul Schacht, professor of English at SUNY Geneseo and director of the Digital Thoreau project. "We write with the idea of being read, and we read to encounter other minds. The Internet has given us new ways to do this," says Schacht, adding, "We can now discuss what we read with others—anywhere in the world, at any time, in groups of unprecedented scale—in online forums or right in the margins of an online text. 'The Readers' Thoreau' helps readers take advantage of these new tools, so that they can build a worldwide community around Thoreau's works, talk to one another inside them, and take the century-and-a-half old conversation about these works and their significance in new directions."
Social editions of texts can be created using any number of different platforms, including CommentPress, the open source WordPress plugin used by the Digital Thoreau Project. This is combined with the social network plugin Commons in a Box, creating forum-style discussion of Thoreau's writings. Both Commons In A Box and CommentPress have fully responsive themes, so users will be able to access the Thoreau social edition across a range of devices, including tablets and phones.
A social edition like "The Readers' Thoreau" makes it easy for high school and college instructors to put their students into conversation with each other or students at another institution. Recently, Schacht and his colleague Kristen Case, Associate Professor of English at the University of Maine, Farmington, published an article in the journal Pedagogy (https://www.academia.edu/9729828/Reading_Deliberately_Thoreau_Online) describing what happened when their students met up in the margins of Walden.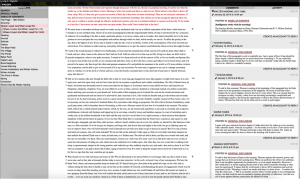 They argue that the main benefit of teaching with a social edition, "lies not in the creation of a novel kind of reading experience but in the opportunity to recover and expose features of conventional reading that familiarity may have obscured" (15), a familiarity with the "hypertextual organization and social affordances" of reading experiences generally considered "linear" or "private."
Ultimately the project aims to build a comprehensive library of Thoreau's works in social editions. In doing so, Schacht hopes Digital Thoreau will become a hub for scholarly discussion of the Transcendentalist, inviting participation from the general public. "Anyone can register an account on the site and leave or reply to comments in the margins of Walden or 'Resistance to Civil Government.' Site members become part of a social network that they can use to follow each others' contributions or communicate in other ways. Teachers can use the site to organize online discussions among their students or even between classes at different institutions."
These social editions of Thoreau's works promote the kind of dialogue that Thoreau himself advocates, according to Schacht. "In writing about his reading at Walden Pond, Thoreau insists that books must be 'read as deliberately and reservedly as they were written,' read, that is, not only with deliberate attention to the writer's words but in such a way as to honor that writer's deliberation in choosing them."
Featured image: Autograph manuscript leaf of lecture draft of "Walking" (1853) by Henry David Thoreau (1817-1862). From the 

Walden Woods Project's Thoreau Institute Library

. Modified and used with permission.
---
Mark Gallagher is a Research and Instructional Technology Consultant (RITC) at the UCLA Center for Digital Humanities, and is doctoral candidate in the UCLA English Department. He is writing a dissertation on optimism and the transcendental affects of Ralph Waldo Emerson, Margaret Fuller, and Henry David Thoreau.
---
Resources: