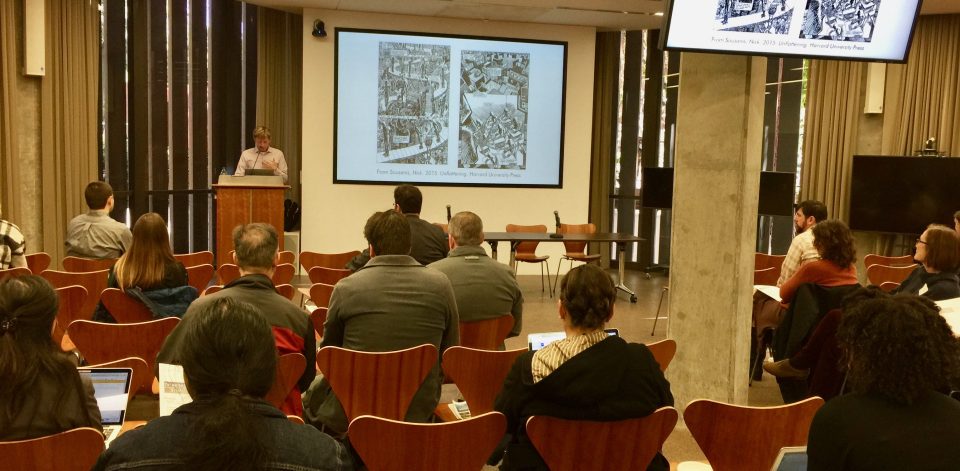 By CDH Guest Author on March 28, 2017
This February, UCLA hosted yet another successful Digital Humanities Infrastructure Symposium (DHIS) at the UCLA Library. Thank you to everyone who presented and attended in person and remotely, and to our generous sponsors, the UCLA Center for Digital Humanities (HumTech), the UCLA Library,  the Loyola Marymount University Library, and MR2 Solutions, who made this possible.
Our two-day symposium opened with a keynote delivered by Patrik Svensson, a Visiting Professor of Digital Humanities at UCLA, on "Humanistic Infrastructures" and ideas, values, and institutional goals that need to be considered when planning and building digital humanities infrastructures.
As with last year, the DHIS attendees then heard from a broad range of librarians, faculty, and staff from the Claremont Colleges Library, UCLA Library, Chapman University, LMU Library, and UCSD Center for the Humanities,  who presented on human and organizational infrastructure topics ranging from DIY and train-the-trainer programs to participatory infrastructures and ePortfolios. Current projects from Occidental College's Center for Digital Liberal Arts, USC School of Cinematic Arts, UCLA Department of Gender Studies, UCSD Center for the Humanities, and Gale|Cengage Learning also had a chance to showcase and received feedback on ongoing projects during the DHIS "Works in Progress" portion of the program, a new addition to this year's schedule. The afternoon  wrapped up with presentations on technical, regional, and institutional infrastructures, which included faculty, DH coordinators, and information technology professionals from UCSC, UC Berkeley, SDSU, USD, CSU San Marcos, USC, and UCLA, as well as conversations on systems, photogrammetry, OCR, text mining and topic modeling, and regional and university labs and centers. Here is a blog post by Quinn Dombrowski, one of the presenters from Research IT at UC-Berkeley, on her experience at DHIS.
This year's DHIS 2017 also expanded upon last year's successful program to include a second day of free hands-on workshops. The morning track included introductory workshops on digital project development environments, DH project planning, and Git and Github, followed by an afternoon track that offered workshops on visualizing data with Tableau, testing DH code, and an introduction to text analysis. Special thanks go out to the workshop instructors from the UCLA Library, UCLA HumTech, and CSU Northridge.
It was wonderful to see presenters and instructors both from local and national institutions, and we hope to hear and learn more from those of you who attended near and far, in person or remotely!
---
Joanna Chen Cham is the Lead for Emerging Literacies Librarian at UCLA, where she focuses on emerging literacies, digital humanities, and archives. Joanna was a member of the DHIS 2017 organizing committee.
Resources