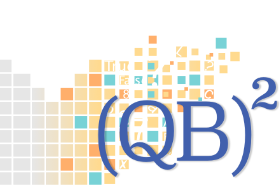 Principal Investigator(s): Thomas Garbelotti, Humanities Instructional Technology Manager
(QB)2, or the "Question Bank Quick Builder," is a Google Sheet Add-on developed at UCLA's Humanities Technology to reduce the labor for instructors creating digital assessments. By translating text content from a properly formatted spreadsheet into XML,  (QB)2 makes it much easier for instructors to create Moodle quizzes.
Instructors can write their questions and answers in plain text, all visible and editable on a single page, which cuts down question creation time and reduces the risk of duplicate or improperly formatted questions. As it is Google based, (QB)2 handles non-western characters easily.
Once complete, (QB)2 transforms this content into an XML document, which the instructor can then easily import into Moodle to build their quizzes.
This tool was developed by the following team at UCLA
Lillian Hawasli,  Humanities Instructional Programmer
Thomas Garbelotti, Humanities Instructional Technology Manager
Benjamin Niedzielski, Research and Instructional Technology Consultant
Amy Zhao, Student Programmer
Jakin Wang, Student Programmer
Rockford Mankini, Student Programmer
You can install (QB)2 from the G-Suite Marketplace, or install directly from the Google Sheet by going to Add-Ons > Get add-ons from within an existing Google sheet.
You can set up the spreadsheet template by going to Add-ons > (QB)² – Question Bank Quick Builder > Set up (QB)2 spreadsheet.
Alternatively, you can make a copy our (QB)2 templates. To save a copy of the file in your Google Drive, choose: File > Make a copy.
Documentation
Video Tutorials
Latest Updates
Terms of Use
Privacy Policy & Terms of Service
© 2021 The Regents of the University of California