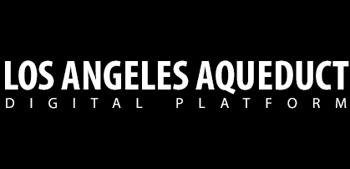 Website:
http://digital.library.ucla.edu/aqueduct/
Principal Investigator(s): Jillian Cuellar, UCLA Library
In partnership with Lauren Bon and Metabolic Studio, UCLA Library Special Collections developed the Los Angeles Aqueduct Digital Platform in commemoration of the Aqueduct's centennial, November 5, 2013.  The platform provides access to digitized archival resources from UCLA Library Special Collections, including photographs, documents, maps, and pamphlets. Featuring original scholarship created by graduate students in the Center for Primary Research and Training, a program in UCLA Library Special Collections, the platform serves as a space where scholars can share research that contextualizes the aqueduct's historical, social, political, and environmental impact on California and the nation, in addition to  water issues in California at-large. The platform also provides access to more than 2000 archival resource descriptions from six California institutions: Braun Research Library at the Autry National Center; Special Collections, Honnold/Mudd Library, The Claremont Colleges and the Claremont Colleges Digital Library; Eastern California Museum; Oviatt Library at Cal State Northridge; William H. Hannon Library at Loyola Marymount University; and UC Riverside Libraries, Water Resources Collections and Archives; as well as close to 500 digital assets from Eastern California Museum. Incorporating these resources into the Los Angeles Aqueduct Digital Platform enables users to search across the holdings of multiple repositories to discover archival materials.