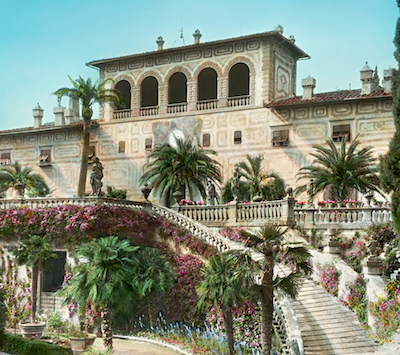 Website:
http://burtonholmes.cdh.ucla.edu/
Principal Investigator(s): Prof. Steven Nelson, Art History
The Burton Holmes Collection website is an archive of slides from UCLA's Burton Holmes slide collection. Born in Chicago in 1870, Burton Holmes was the first person to combine travel stories, slides shows and motion pictures into documentary travel lectures, for which he coined the word "travelogue".  He gave his first professional lectures, on Japan, in 1893 and, by the turn of the 20th century was recognized as America's leading travel lecturer. Holmes generally spent six months of each year travelling and photographing in various locations and the other six presenting lectures in major venues in the United States, among them Boston's Symphony Hall and New York's Carnegie Hall in New York.  During his long career, Holmes traveled all over the world: he had crossed the Atlantic and Pacific Oceans more than 50 times and had seen every continent except Antarctica. Such travels provided him with rich material for the more than 8,000 lectures he delivered. These lectures, combined with his writing, had much influence over American perceptions of the rest of the world. Holmes died in Los Angeles in 1958.
The Burton Holmes Collection at UCLA, donated by Holmes in 1957, includes more than 16,000 hand-painted 3×4" glass lanternslides made between 1887 and 1937. In addition to a rich array of images of monuments and local festivals, the collection highlights many major historical events. These include, but are not limited to, the Russo-Japanese War of 1904-05, the 1906 eruption of Mt. Vesuvius, several World's Fairs, the construction of the Panama Canal, and the First World War. The website currently includes some 2,100 Burton Holmes scenes, focusing on traveler's views of Italy and a few from the the Russo-Japanese War. However, we hope to gradually add digital images of all of UCLA's Burton Holmes' glass lanternslides in the coming years.
HumTech contributed to this project by providing expertise with Omeka, the software that we are currently using to display the collection. HumTech staff set up the site and uploaded all of the images and metadata to it, and HumTech continues to provide web hosting for the collection.
We are very grateful to the Kress Foundation, which provided funding for the scanning of the Italy material.