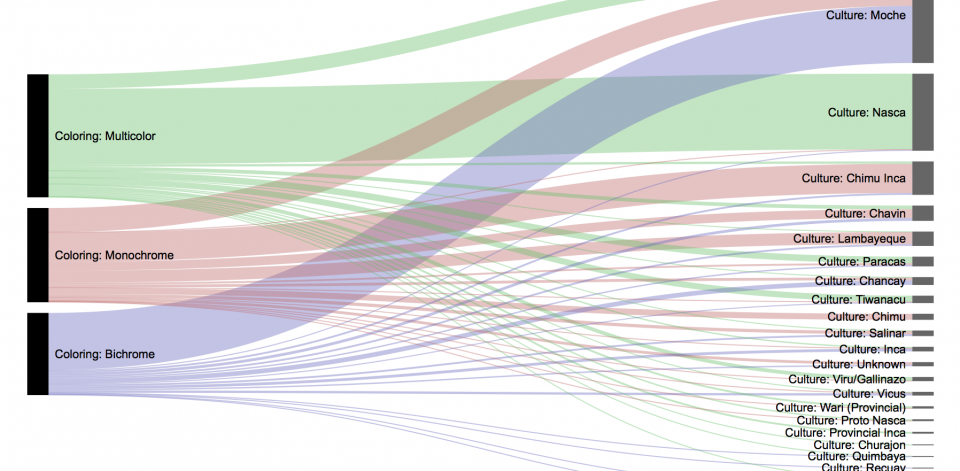 Website:
http://www.mustardy.com/andeanpots/
Principal Investigator(s): Prof. Miriam Posner, Digital Humanities and Information Studies
As part of the UCLA Digital Humanities program's capstone course, students and a faculty member collaborated on a web based project that offers more insight into the collection of Andean ceramics at the Fowler Museum at UCLA. Over the course of the project, they experimented with different digital tools that allowed them to create and analyze different data visualizations. The team was given a dataset that contained approximated 650 records and associated photographs. They improved the dataset with tags related to the pots' iconographies, color, style, time period, etc. This enhanced dataset was used to generate multiple data visualizations that highlighted the patterns within the collection. The students also created 3D models of selected pots that offers a different view to the objects, compared to looking at them on display in the museum. The project was completed in 10 weeks by three under graduate students and a graduate student, under the guidance of a faculty member. The team acquired new research and digital skills while learning more about the different Andean cultures. They also gained more respect for those in charge of digital projects such as this one because of the time and effort they contribute to their projects. Moreover, they were able to learn more about how a cultural institution functions while working closely with the museum staff.
Miriam Posner & Lina Kunnathuparambil – lightning talk at project showcase event on April 8, 2015: