Scholarly Innovation Lab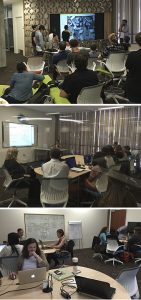 Breaking down disciplinary boundaries, the Scholarly Innovation Labs (SILs) provides the space, resources, and community needed to stimulate innovative and collaborative scholarship.
The SILs are intended not only to be labs and workshops for project teams, but vibrant hubs of interdisciplinary digital scholarship at UCLA.  Every quarter we host regular meetings and special events that cover a wide range of topics.
To Propose a research collaboration please submit a brief description using our online form. We review applications on a rolling basis. If accepted, team members will have access to the SIL on a quarterly basis.
Questions? Please email us here.
Facilities:
The SIL consists of three spaces along the North side of the Research Commons on the first floor of the Research Library. Each seats up to 20 people.
Inner SIL is an enclosed space containing four meeting tables, each with a large monitor.
Window SIL is a glass-walled space which contains four meeting tables, each with a large monitor.In addition, a smart board/projector is mounted on one wall.
Outer SIL contains a large high-resolution rear-projection screen in an alcove open to the Research Commons. Movable tables allow multiple configurations.
Hours:
Approved project teams will have access to the SIL whenever the Research Library is open.
SIL Calendars