UCLA DH Research Seminar: Ben Breen, UCSC
April 13, 2018 @ 12:00 pm
-
3:00 pm
Scholarly Innovation Lab, YRL,
280 Charles E. Young Drive N




Los Angeles

,

CA

90095

United States
+ Google Map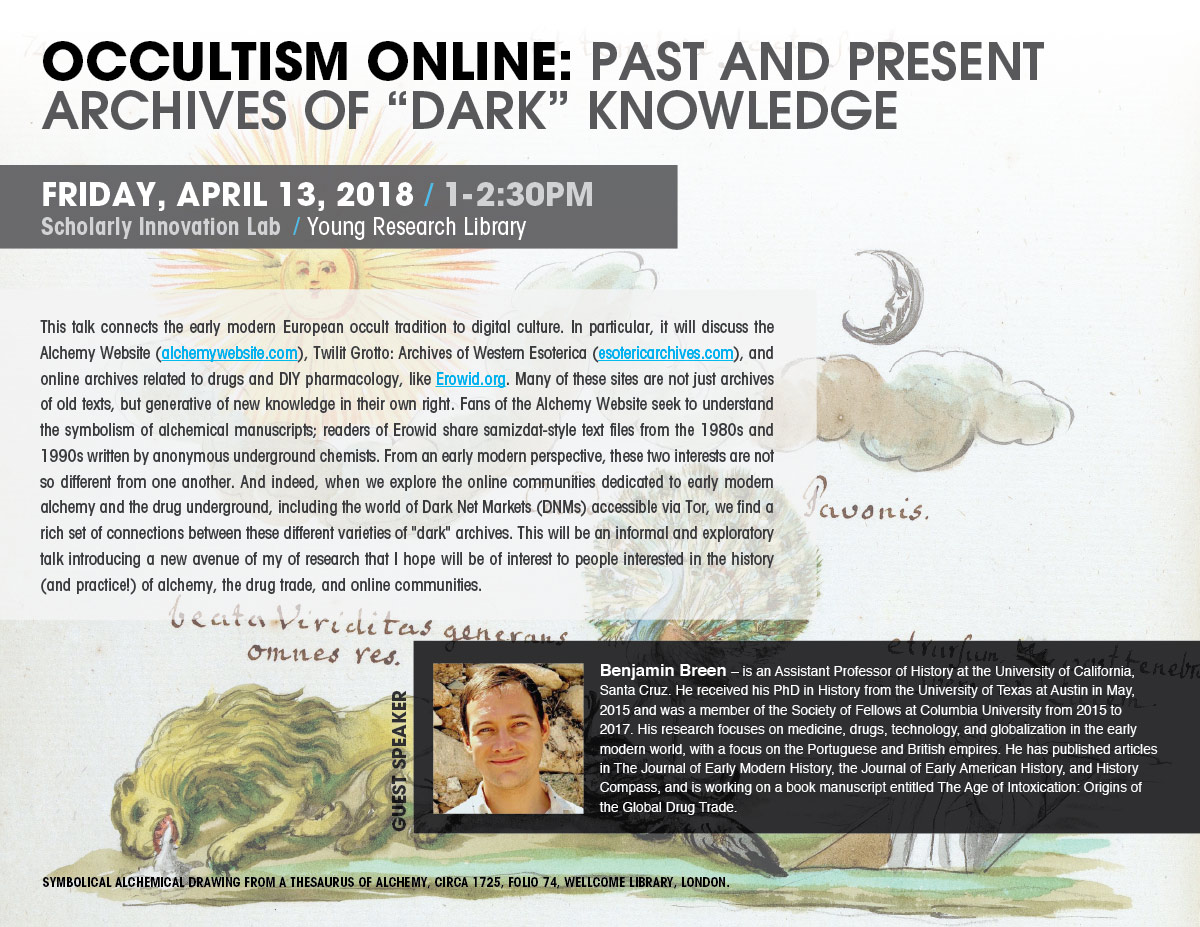 Lunch 

12-1pm. 

Lecture 1-3pm
Abstract
This talk connects the early modern European occult tradition to digital culture. In particular, it will discuss the Alchemy Website (
alchemywebsite.com
), Twilit Grotto: Archives of Western Esoterica (
esotericarchives.com
), and online archives related to drugs and DIY pharmacology, like 
Erowid.org
. Many of these sites are not just archives of old texts, but generative of new knowledge in their own right. Fans of the Alchemy Website seek to understand the symbolism of alchemical manuscripts; readers of Erowid share samizdat-style text files from the 1980s and 1990s written by anonymous underground chemists. From an early modern perspective, these two interests are not so different from one another. And indeed, when we explore the online communities dedicated to early modern alchemy and the drug underground, including the world of Dark Net Markets (DNMs) accessible via Tor, we find a rich set of connections between these different varieties of "dark" archives. This will be an informal and exploratory talk introducing a new avenue of my of research that I hope will be of interest to people interested in the history (and practice!) of alchemy, the drug trade, and online communities.
Benjamin Breen bio
Benjamin Breen is an Assistant Professor of History at the University of California, Santa Cruz. He received his PhD in History from the University of Texas at Austin in May, 2015 and was a member of the Society of Fellows at Columbia University from 2015 to 2017. His research focuses on medicine, drugs, technology, and globalization in the early modern world, with a focus on the Portuguese and British empires. He has published articles in The Journal of Early Modern History, the Journal of Early American History, and History Compass, and is working on a book manuscript entitled The Age of Intoxication: Origins of the Global Drug Trade.
This lecture is part of the "Junior Faculty Lecture Circuit", a program made possible by a 2017-18 Humanities Center Collaboration grant from the UC Humanities Research Institute.