Structuring Data to Decolonize History
November 13, 2017 @ 11:00 am
-
12:30 pm
The Learning Lab at Rolfe,
2118 Rolfe Hall




Los Angeles

,

CA

90095
+ Google Map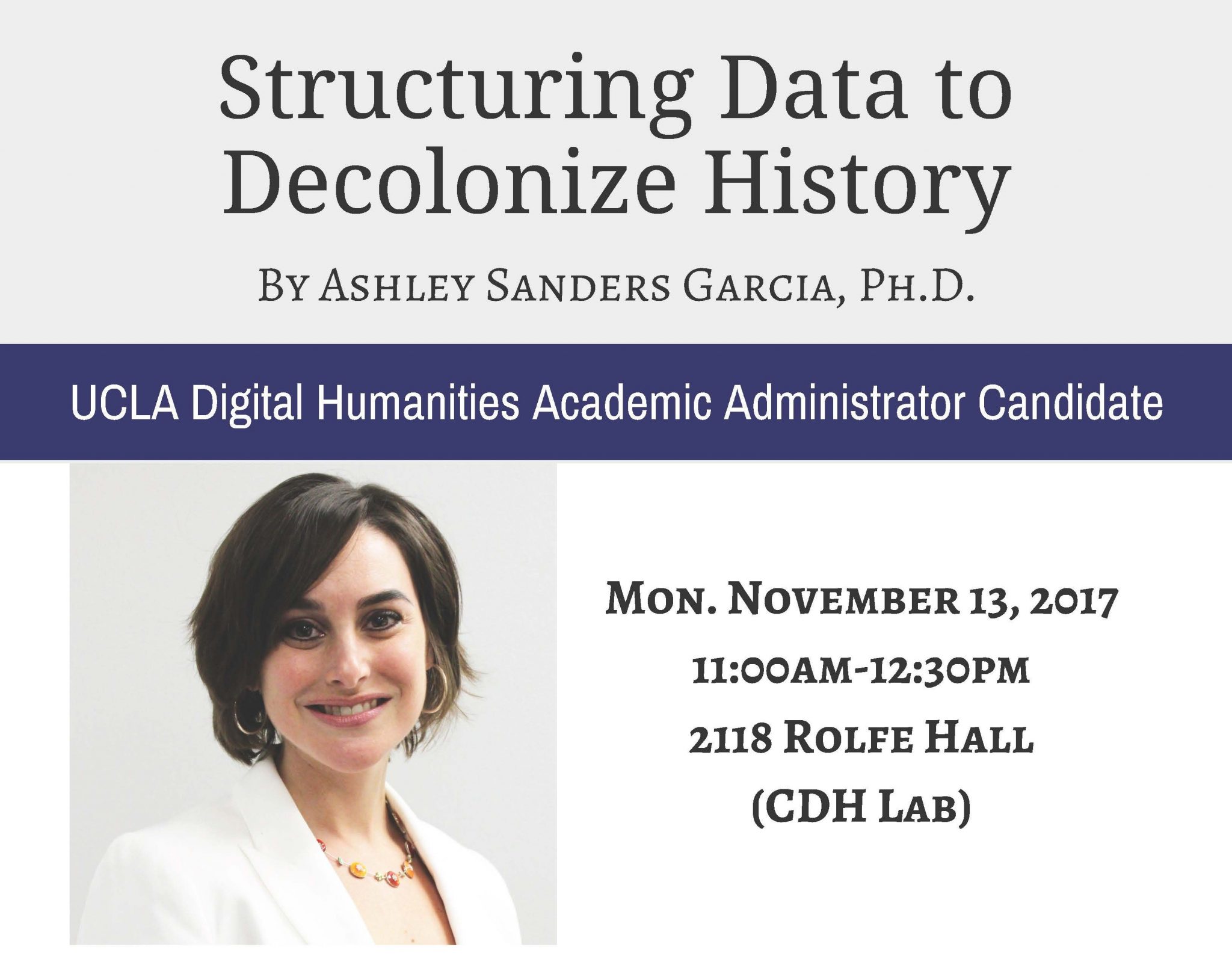 In 1827, a scandal involving a fly swatter provided a pretext for the cessation of diplomacy between France and Algiers and, in 1830, the French conquest. The historiography of French Algeria's violent formation remains focused, almost exclusively, on the actions of French officials. In contrast, this talk presents two case studies – one from an Indigenous perspective, the other from common settlers – to highlight the possibilities that DH offers to de-center the historical narrative and challenge the prevailing settler colonial theory.
Between 1830 and 1848, Ottoman-Algerian Governor of Constantine, Ahmed Bey, led the eastern resistance movement against the invading forces of the French army. At the close of 1848, the overthrown Governor Ahmed wrote his memoir after finally capitulating to the French. The first case study describes the process of structuring data from Ahmed Bey's memoir to create visualizations of his social network. These visualizations highlight the complexity of Algerian identities and shifting political alliances during the French conquest. Paired with a close reading of the memoir, these visualizations invite scholars to question the dominant narratives of French conquest and colonization. The second case study employs data visualization to show that European settlers in Algeria were not, in fact, motivated by land, as current settler colonial theory maintains. Rather, urban business opportunities drew emigrants to the settler colony between 1830 and 1851. These case studies shine a spotlight on how digital research methods enable scholars to ask different questions, interrogate sources in new ways, and contest existing narratives.
Ashley Sanders Garcia holds a Ph.D. in History with a specialization in Digital Humanities from Michigan State University. She is Director of the Claremont Colleges Digital Research Studio, a professor of History and Cultural Studies at Claremont Graduate University, and Visiting Professor of Digital Humanities at Claremont McKenna College. Her research explores the development of settler colonies in the United States and French Algeria.
Please RSVP here: https://goo.gl/forms/BIRnj6QUOYT0hUR13
Questions? Contact: allison@humnet.ucla.edu