M.Arch. II / SUPRASTUDIO Information Session
October 19, 2016 @ 9:00 am
-
2:00 pm
M.ARCH. II /SUPRASTUDO
INFORMATION SESSIONS OFFERED
Learn more about our M.Arch.II/SUPRASTUDIO degree program by joining us on-line with SUPRASTUDIO leader Guvenc Ozel for a 30 minute presentation / 30 minute Q+A.
Wednesday, October 19
9:00AM PDT
*All days and times listed are Pacific Daylight Time/ PDT. Please convert to your local time zone.


Presentation by SUPRASTUDIO Leader
Guvenc Ozel
TOPICS INCLUDE: 
General Information + Admissions Questions, IDEAS Satelitte Campus + Technology Lab, Industry Collaborators + IDEAS Lecture Series, Student Design Projects from Current and Past Studios, and Research Topics for 2017-18 SUPRASTUDIOS
WEDNESDAY, OCTOBER 19
9:00AM (PDT)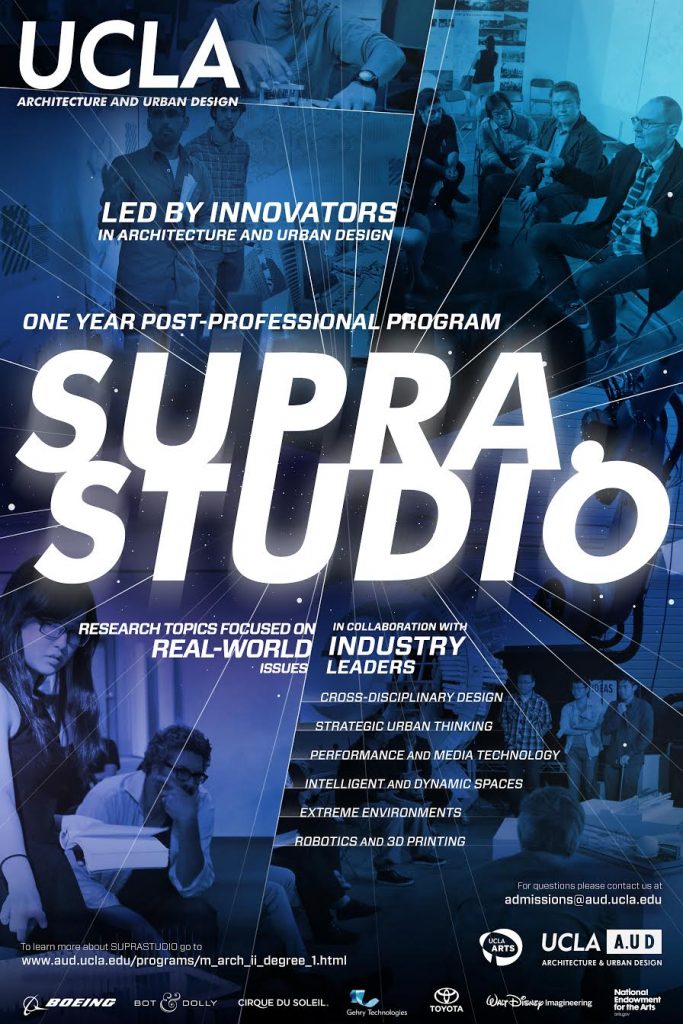 M.Arch.II / SUPRASTUDIO Degree Program
1-Year Program, 5-Year B.Arch. Professional Degree Program or Foreign Equivalent required.
Application Deadline is: January 6, 2016
SUPRASTUDIO is a post-professional program that leads to a Masters of Architecture II degree. Students engage in real-word issues through intensive research to develop new methodologies of architectural design. The program offers extensive research opportunities in studios led by world-renowned figures in architecture. SUPRASTUDIO partners student researchers with industry collaborators exploring topics as diverse as strategic thinking, sustainability, contemporary culture, lifestyle, Artificial Intelligence, autonomous mobility, sensing technology, robotics, extreme environments, the journey to outer space, virtual reality, entertainment production performances, and media-enhanced experiences.