CITYLAB, TIMES TEN
February 3, 2017 @ 7:00 pm
-
April 9, 2017 @ 7:00 pm
CITYLAB, TIMES TEN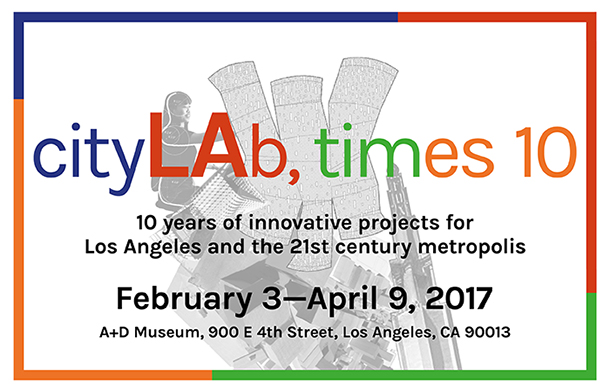 cityLAb, Times Ten
EXHIBITION at the A + D MUSEUM
February 3 – April 9, 2017
For the past ten years, cityLAB – UCLA has been at the center of innovation thought about the architecture of the city, particularly in Los Angeles. The "cityLAb, Times Ten" exhibition showcases the lab's research on some of the critical challenges facing the 21st century metropolis ranging from housing to density and transportation. A series of evening panels called "Lab Talks" will bring people together to debate design's role in the city. Collaborative, experimental projects serve as prototypes of progressive architecture that holds multiplier effects, with the potential to impact the urban fabric of Southern California and beyond. The work from cityLAB is exhibited in three categories: Desk, Neighbor, and Place. Looking to the future, creative projects from six of Los Angeles' most talented young architects explore the city's coming decade.
cityLAb, Times Ten Opening:  7 pm Friday, February 3
Exhibition walk-through with cityLAB Director, Dana Cuff, Professor of Architecture and Urban Design
Lab Talk #1 – Thursday, February   | 7:30pm (admission free)
Organizing: Designing an Inclusive LA
At a time of pronounced political and cultural divisions, how do we design a public sphere that brings the diverse, sometimes insular, communities of LA together?
Lab Talk #2 – Thursday, March 9 | 7:30pm (admission free)
LA Emerging: Six Ways Forward
Los Angeles is a historic site of experimentation, innovation and growth. What are the design challenges young architects in LA are facing? What do emerging creators see as the future of architecture in the city?
Lab Talk #3 – Thursday, April 6 | 7:30pm (admission free)
The Genius of Making 
Los Angeles' design communities have long valued the region's capacity for experimentation in fabrication and materiality. What is the new status of making in the city today?
A+D Museum
Architecture and Design Museum of Los Angeles
900 E. 4th Street, Los Angeles, CA 90013

(213) 346-9734 | info@aplusd.org
HOURS
TUESDAY-FRIDAY: 11-5pm
SATURDAY-SUNDAY: 12-6pm
CLOSED MONDAYS
ADMISSION
General Adult: $7
Students+ Seniors: $5
A+D Members and Children under 12: Free