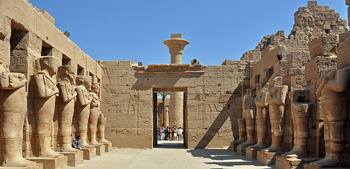 Website:
http://dlib.etc.ucla.edu/projects/Karnak/
Principal Investigator(s): Prof. Diane Favro, Architecture
The Digital Karnak Project aims to make the site of Karnak more accessible to students and instructors in the English-speaking world. The features of this website have been designed to provide college classrooms (and the interested public) with easily accessible, up-to-date, expert material relating to the temple precinct. As part of this goal, a 3-D Virtual Reality model of the temple was constructed, offering students a completely new way to view the temple: reign-by-reign, following the complex patterns of royal construction, modification and destruction that are now obscured by the latest building phases at the site. Footage of this model, as well as original videos and maps, are accompanied by thematic essays written and reviewed by Egyptologists to supply students and instructors with reliable information in a digital and visually dynamic platform. A simplified version of the Virtual Reality model of the temple is also made available in Google Earth, for a completely interactive experience.