Folders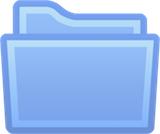 The folder is a resource that enables an instructor to display a number of related files inside a single folder, reducing scrolling on the course page. A zipped folder may be uploaded and unzipped for display, or an empty folder created and files uploaded into it.
Folders have unique behaviors that are slightly different from individual files uploaded to a CCLE page.  The user should look over this short document to understand when folders are a good solution and also be aware of when they may not be the best option. See the File Documentation for guidance on uploading single files without a folder.
Document Topics
Why use folders?

Why NOT to use folders?

How to add a folder
Why use folders?  
Using a folder to display resources is neater than displaying files one by one in a list. It takes up less space on the course page. The user has an option to download files one by one or the entire folder at once, as seen in the screenshot below. Clicking on a item will initiate an individual download, while Download Folder will download all items.
Why NOT use folders?
The user is forced to download files stored in a folder resource. You cannot have a folder of pictures where the user can view the pictures directly on the CCLE page (other than a very small thumbnail) without a download. A folder also functions differently from a normal CCLE page, since you cannot add activities or resources within a folder except for files.   
How to add a Folder
Ensure editing is on by clicking the orange Turn editing on button located on the top-right corner of the page. 

Navigate to the section of your course site where you would like to add a folder.

Click the orange Add an activity or resource button in the bottom-right corner of the page.

In the pop-up window that appears, select Folder.

A new screen will appear, as seen below. Provide a Name for the folder you are creating. You can also choose to give a description of the folder (make sure to click "Display description on course page" for students to be able to view this description).  


To add files to the folder, either drag and drop or select "Add..." which will call up thefile picker, and then browse your computer for a specific file. You can also create folders within folders by selecting "Create folder."

The Display Folder Contents has two options: Inline on a course page or On a separate page. The former will allow a user to see the folder contents within a section page, whereas the latter will show the contents in a new page. Below is the folder on a separate page:


After adding files to a folder, click the Save and return to course button or the Save and display button (if you wish to view your new content).