Summary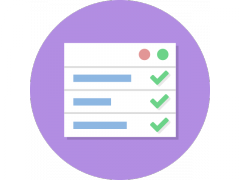 Create tasks with a list of statements
Description
The Summary content type allows learners to interactively build a summary of a certain topic. Summaries are a perfect way to strengthen your learners' ability to remember by encouraging them to build interactive summaries as they learn.
This functions as both an assessment and a presentation and includes the following interactivity(s): – question
Use
This is a multipurpose content type that can be integrated into an aggregator content type, or used on its own. For more information on how H5P types work and how they interact, see http://humtech.ucla.edu/instructional-support/ccle-activities-resources/h5p/.
Summaries work best when they are presented to the learner immediately after the learning content.

Examples are:

   at the end of an article or a chapter of text
   at the end of a video
   at the last slide of a presentation

Summaries help the learner remember key information in a text, video or presentation, by actively buliding a summary about the topic at hand. When the learner has completed a summary, a complete list of key statements about the topic is the end result.

Summaries can be created stand-alone or they can be included in Interactive Videos or Presentations. Either way, they are created in the same way.
Sample
Help and Resources
Logo and sample from https://h5p.org/documentation/for-authors/tutorials.