Single Choice Set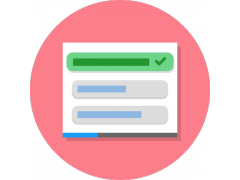 Create questions with one correct answer
Description
The Single Choice Set content type allows allows content designers to create question sets with one correct answer per question. The end user gets immediate feedback after submitting each answer.
This functions as an assessment.
Use
This is a multi purpose content type that can be integrated into an aggregator content type, or used on its own. For more information on how H5P types work and how they interact, see http://humtech.ucla.edu/instructional-support/ccle-activities-resources/h5p/.
Single Choice Set questions can be used for testing skills related to any topic, and can be an effective assessment tool. With immediate feedback and a summary at the end, user learning is reinforced. Single Choice Set features sound effects for correct and wrong (sound effects may be turned off).
 
Single Choice Set questions can be used alone or integrated into other content types, such as Interactive Videos or Presentations. Either way, they are created in the same way.
Sample
Help and Resources
Logo and sample from https://h5p.org/documentation/for-authors/tutorials.