Questionnaire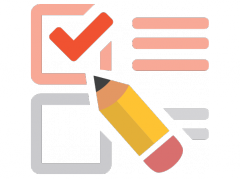 Create a questionnaire to receive feedback
Description
A free HTML5 based content type allowing creatives to create questionnaires. Questionnaires can be used as surveys or open ended questions. You may use multiple choice questions or text input questions.
Gain feedback and ask open ended questions in other content types with Questionnaire. Questionnaire makes the user's answers available via xAPI. This means that website owners may store the answers in many different ways. Answers may be stored in an LRS, the sites own custom storage or a script may for instance fetch the e-mail address and use it to send the user an e-mail.
Features:
Create multiple choice or open ended questions
Require specific questions to be answered
Change the display text and show an image upon completion
Set the accessibility messages for screen readers
This functions as an assessment and includes the following interactivity(s): – question
Use
This is a multipurpose content type that can be integrated into an aggregator content type, or used on its own. For more information on how H5P types work and how they interact, see http://humtech.ucla.edu/instructional-support/ccle-activities-resources/h5p/.
Sample
Help and Resources
Logo and sample from https://h5p.org/documentation/for-authors/tutorials.