Guess the Answer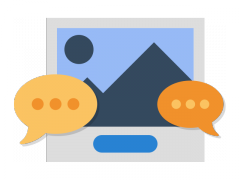 Create an image with a question and answer
Description
Guess the Answer is a free HTML5 based content type allowing creatives to create challenges where the user is to guess an answer based on a picture. All you need is this content type and the H5P plugin for WordPress, Moodle or Drupal to start creating.
This content type allows authors to upload an image and add a suitable description. End users can guess the answer and press the bar below the image to reveal the correct answer.
Features:
Add a task description and image
Add a descriptive solution label and a solution text
Solution text is revealed on input from the user
This functions as an assessment and includes the following interactivity(s): – question
Use
For more information on how H5P types work and how they interact, see http://humtech.ucla.edu/instructional-support/ccle-activities-resources/h5p/.
Sample
Help and Resources
Logo and sample from https://h5p.org/documentation/for-authors/tutorials.