Find the Words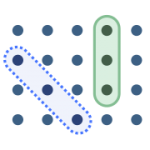 Grid word search game
Description
A free HTML5-based word search activity that allows authors to create a list of words that will be drawn in a grid. The learners' task is to find and select the words in the grid. Find the words is available through the H5P plugin on Drupal, Moodle or WordPress sites and is embeddable onto any website that allows embeds.
Use
The Find the Words tool is good for language learning activities that assess understanding of parts of speech. This is a multi purpose content type that can be integrated into an aggregator content type, or used on its own. For more information on how H5P types work and how they interact, see http://humtech.ucla.edu/instructional-support/ccle-activities-resources/h5p/.
Sample
Help and Resources
Logo and sample from https://h5p.org/documentation/for-authors/tutorials.