Dialog Cards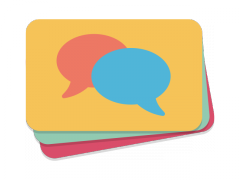 Create text-based turning cards
Description
The Dialog cards content type enables you to create a set of cards with corresponding words or expressions on either side of the cards.
This functions as a presentation and includes the following interactivity(s): – question
Use
This is a multi purpose content type that can be integrated into an aggregator content type, or used on its own. For more information on how H5P types work and how they interact, see http://humtech.ucla.edu/instructional-support/ccle-activities-resources/h5p/.
Dialog cards can be used as a drill to help learners memorize words, expressions, or sentences. Dialog cards provide a prompt on one side of the card and a corresponding answer on the other side.
 
Dialog cards are often used in language learning for drilling words and expressions. Dialog cards can also be used to present math problems or help learners remember facts such as historical events, formulas, or names.
Sample
Help and Resources
Logo and sample from https://h5p.org/documentation/for-authors/tutorials.