Accordian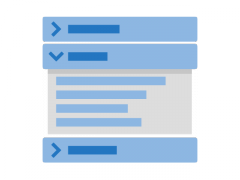 Create vertically stacked expandable items
Description
Reduce the amount of text presented to readers by using this responsive accordion. Readers decide which headlines to take a closer look at by expanding the title. Excellent for providing an overview with optional in-depth explanations.
This functions as a presentation and includes the following interactivity(s):
Use
This is a multi purpose content type that can be integrated into an aggregator content type, or used on its own. For more information on how H5P types work and how they interact, see http://humtech.ucla.edu/instructional-support/ccle-activities-resources/h5p/.
Sample
Help and Resources
Logo and sample from https://h5p.org/documentation/for-authors/tutorials.