H5P Interactive Content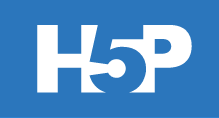 H5P is an open-source library of interactive content that can be used both in and out of Bruin Learn. Fun and rich, it can include interactive video (annotation and quizzing), games, assessments, and timelines, just to name a few!  
Based on HTML5 (the most current HTML standard), this allows for their use across browsers and platforms, and does not require the use and configuration of proprietary browser plugins, such as Adobe's Flashplayer.  H5P content is mobile friendly and responsive, which is great for students regardless of their choice of device.
With H5P, you may author your content directly in your Bruin Learn course site. As with all content, you have the option to publish and un-publish, and adjust other accessibility settings as you would with any other activity or resource. And just like those others, you may migrate this content to other courses, and download it locally for offline storage and retention.
Available content types
H5P is a dynamic community, and is constantly improving and changing – new interactive content types are added regularly.  As such some of the content types featured in H5P's online authoring tool may not be available within CCLE. If you find one that you'd like to use  and you don't see it in CCLE, let us know!
Accordion – Create vertically stacked expandable items
Agamotto –Create an interactive slideshow.
Arithmetic Quiz – Create time-based arithmetic quizzes
Audio – Upload an audio recording.
Audio Recorder – Create an audio recording
Chart – Quickly generate bar and pie charts
Collage – Create a collage of multiple images with preconfigured layout options.
Column – Column layout for H5P Content

Contact Button 

Continuous Text 

Counter 

Course Presentation – Course Presentations contain slides where you can add various multimedia and interactive elements. 

Crossroads 

Dialog Cards – Create text-based turning cards
Documentation Tool – Create a form wizard with text export
Drag and Drop – Create drag and drop tasks with images
Drag the Words – Create text-based drag and drop tasks

Exportable Text Area 

Facebook Feed 

Fill in the Blanks – Create a task with missing words in a text

Find Multiple Hotspots – Create many hotspots for users to find

Find the Hotspot – Create image hotspot for users to find
Flashcards – Create flashcards with an image prompt on one side and text answers on the other.

Fullscreen scroller 

Greeting Card 

Guess the Answer – Create an image with a question and answer

Iframe Embedder – Embed from a url or a set of files
H5P Resources