Gear to Go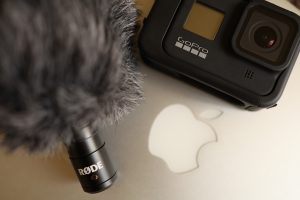 Since access to resources on campus is limited, HumTech is offering Gear to Go – equipment that can be lent to instructors at no cost.
Take-Home Recording Studio
With the majority of instruction happening online, the ability to produce high-quality lecture material has never been more important. HumTech has two take-home studio kits that Humanities instructors can borrow for up to 1 week at a time.
The studio kit includes the following items:
GoPro Hero 8 Black camera with charger
128GB microSD card
Lavalier macrophone
On-camera microphone
On-camera light
Tripod and camera mounts
5′ x 7′ collapsible green screen
Be sure to check out our guide (coming soon) on how to use the studio kits, and video production best practices!
Laptop Lending
In addition to the studio kits, Humanities instructors are able to borrow laptops as well. Laptops are 2015 model MacBook Pros. The laptops come with basic software installed, (Chrome, Firefox, Microsoft Office Suite, iMovie, etc), though users are given an administrative account so they can install their own software on the computer if needed. Laptops can be borrowed for an entire quarter.
Requesting Equipment
Please fill out the form below to request a studio kit or laptop. Keep in mind that equipment can not be shipped – it must be picked up from, and returned to campus.